About Us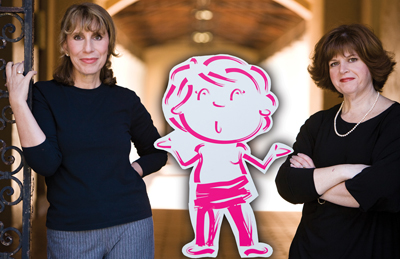 Perrie Meno-Pudge® was the inspiration of Barbara Kimmel & Joanne Fsadni, two long time, baby boomers friends who channeled years of shared entrepreneurial and life experience into a midlife career change.
Perrie was literally scribbled on a napkin one evening while out to dinner with our families. Our husbands were talking about fixing something, our kids were nudging each other and we were lamenting about the 'joys' of our stage of life. We started creating a character that would embody our frustrations and triumphs. By dessert, we had imagined a supporting cast based on the composites of people in our lives. While the characters were drawn to mildly resemble our families and us, they are mostly a compilation of many people we know and love and of complete strangers too.
The cartoons come from the things we do that others do as well. Inspiration comes from stepping back from our lives and from listening and observing the common thread that ties women together. We often get emails from women who are eager to share a laugh about an experience they have had.
The cartoons can be found in many local women's newspapers and glossy magazines around the USA and on a growing number of websites and blogs in addition to ours.
Midlife is the New Beautiful!®