Be among the First to become an Official PERRIE MENO-PUDGE® FAN CLUB MEMBER
or give one to a Midlife Sista Friend!
Membership Kit Includes:
* Tote * Apron * Hot Flash Wipes * Greeting Card Pack * Hyper-hormone Zone Mug
*1 Year Subcription to Perrie's E-cards * Automatic Sign-up 2 Receive the Cartoon of the Week
* T-shirt Signed By Perrie's Co-creators* * 20% Off Of Your Next Purchase Of Perrie Products

Free Bonus


* 6 Perrie's "Grow A Sense Of Humor" Seed Packets You Can Use to
Spread Some Smiles Around to Your Midlife Sistas!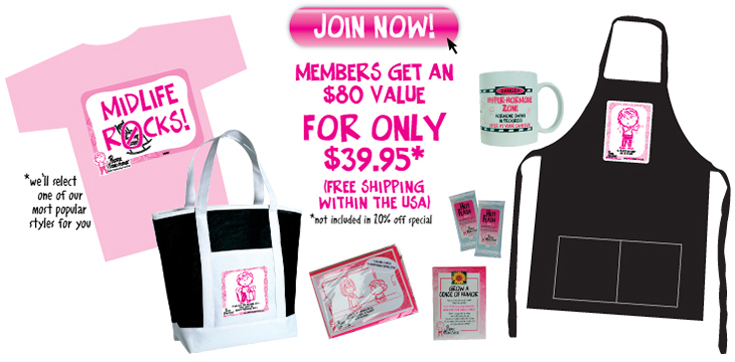 Copyrighted Material ©Starmony Unlimited LLC 2005 - 2010. All Rights Reserved.
Link freely, but please obtain permission to reproduce material from this site in whole or part.